Why do we have a union?
At the University of Cincinnati, we have one of the oldest and strongest AAUP chapters in the United States.
The UC Chapter AAUP was organized during WWII. Then, and now, the AAUP is the only professional organization whose primary purpose is to enhance the academy by preserving shared governance, faculty and student rights, legal advocacy and collective bargaining.
In 1974, the UC Chapter decided to become a bargaining unit chapter, that is, a union. In that first round of contract negotiations, members together:
secured contractually guaranteed health benefits and fair salaries
fought an attempt to abolish sabbaticals
secured shared governance through the Faculty Senate
established faculty governance over reappointment, promotion, and tenure criteria
established an innovative new grievance system that provides a fair process and Grievance Panel hearing for faculty members
Our task to day is the same as it was at our founding: to make ourselves relevant to our society, to engage in the daily experiences of students and faculty at UC, and to cultivate activism and advocacy across generational, cultural and disciplinary boundaries. Those boundaries should not and will not divide us.
Since those early days, the UC Chapter has worked to preserve those gains, as well as addressing the day-to-day battles that appear. Recently, the Chapter has worked to help stave off a legislative attack on the right to bargain for reasonable health insurance costs and, here on campus, to ensure a real faculty voice in collegiate restructuring. Looking forward, the Chapter will face the challenge of bargaining a good contract for UC faculty – one that moves the whole University forward in important ways – in the midst of the worst recession in 70 years.
Your membership will make the Chapter stronger as it faces this latest challenge. Join your colleagues who are already dues-paying UC AAUP members. Membership makes a difference!
Sample AAUP Dues (rounded)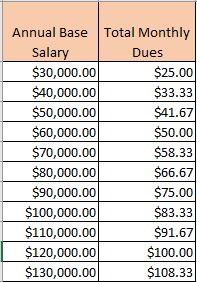 Active Membership Dues are .01 x academic base salary.
The minimum dues rate for all members is $240/year.
AAUP Dues are paid through payroll deduction.